ProtoCOL 3
ProtoCOL 3 is the next generation instrument for colony counting, zone measurements, membranes and a range of other applications.

The system can be configured for a wide range of plate types. These include:
Pour plates

Spiral plates

Multi-well

SBA (serum bactericidal assay)

OPKA (opsonophagocytic killing assay)

Ames

Inhibition zones

AST (antibiotic susceptibility testing)

SRD (single radial immunodiffusion)
ProcScan
ProcScan is used when working with large size plates either for colony counting or for the measurement of inhibition zones on plates which are too large to fit inside the ProtoCOL 3.

Why buy this product?
Protos 3
Chromogenic ID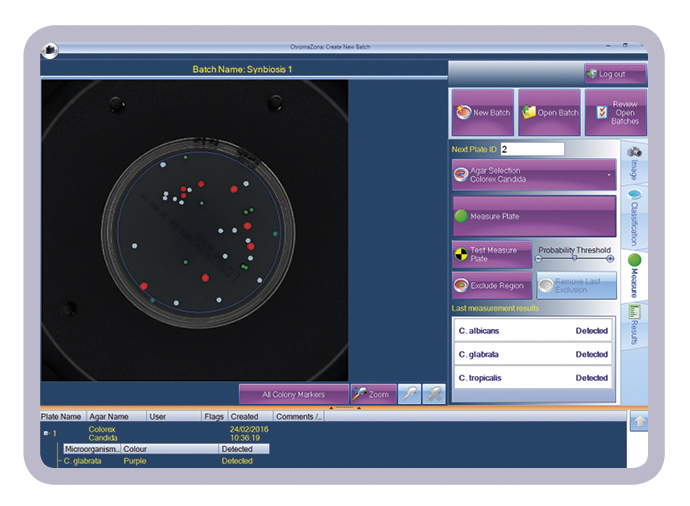 Chromogenic ID is a new generation colour recognition module designed to make the analysis of chromogenic agars accurate and simple to interpret. Organisms are identified at the touch of a button with the data and image stored for a permanent electronic record.
Chromogenic ID is simple and easy to use alongside all of ProtoCOL 3's powerful features for a completely automated solution to identification of target organisms on chromogenic media. Chromogenic ID ensures all plates are read in a consistent manner with no user interpretation, resulting in increased accuracy. The electronic record and data is stored in a secure SQL database, meaning the software is fully compliant with CFR 21 and makes the instrument suitable for use in a GLP/GMP environment.
Wide range of applications
The system can be configured for a wide range of pour plate applications. These include:
Food

Water

Clinical

Pharmaceutical

Veterinary
SynStats
SynStats is a new generation statistical module designed to make the analysis of results simple and easy to use and interpret. The SynStats module fits seamlessly alongside the ProtoCOL 3 colony counting and zone measuring software. All functions are treated in a straightforward and logical way such that those not familiar with statistical analysis can follow each step while at the same time meeting the high expectations of the statisticians.

The features include:
Assays with single or multiple Latin squares

5 + 1 standard curve

2 + 2 and 3 + 3 Petri dish assays

Outliers highlighted and missing values replaced

Parallel line analysis

Slope ratio analysis

Potencies with confidence limits

ANOVA (Analysis of Variance)

Presentation of results in tables and graphs
aCOLade
The new aCOLade colony counter is a reliable, easy-to-use device for the rapid manual counting of colonies on any agar in petri dishes. The versatile design accepts plates from 60 - 150mm. A pressure sensor detects each count as the operator marks each colony with a pen and the LED readout displays the count. A "back" button allows for incorrect counts to be rejected. An adjustable magnifying glass assists the counting of very small colonies.